ARDESTO ceramic tableware for a special atmosphere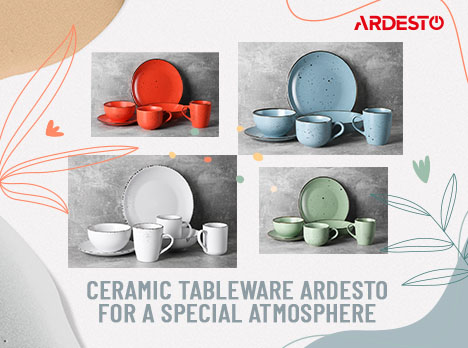 The use of stylish modern ARDESTO tableware for table setting is the best sign of hospitality. When you want to create a special atmosphere, you should carefully consider in particular table setting, which includes tableware and cutlery.
Exquisite colors
Traditionally, bright colors and classic white are used for table setting. ARDESTO ceramic tableware is perfect for setting both festive and daily table. Colors that are harmoniously combined with each other and allow you to create various color combinations.
Colored ceramic tableware is very popular among consumers. Such tableware has an eye-catching design and impresses with its elegance.

All natural trend
It is known that ceramic tableware is made of a special kind of clay. People has been using pottery since ancient times. Despite the wide selection of modern materials, ceramics remains among the favorites. What makes it so special?
Ceramics is a 100% environmentally friendly material that, when heated, does not emit any harmful compounds and does not enter into chemical reactions. This means that the food served in such tableware is completely safe for health.

Advantages of ceramics
An important advantage of ceramics is that it heats up smoothly and evenly, and therefore retains heat for a very long time. If you pour soup into a deep ceramic plate, it will stay hot much longer than in an ordinary plate. In addition, ceramics can withstand high temperatures (up to 450 °C). In such tableware, you can heat up food in the oven or in the microwave without any restrictions.
You can wash ceramics in warm water with detergent. Thanks to the glazed surface, it dries quickly, and no streaks or stains remain on its surface. It can also be washed in dishwasher – no harm to either the tableware or the appliance.