Cypress Signal Extenders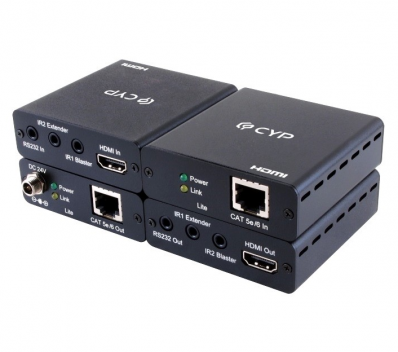 TV or projector is installed too far from the player or computer? Standard length HDMI cables is too short? This is no longer a problem!
A series of HDMI signal extenders from the well-known manufacturer Cypress Technology, which specializes on the design and manufacture of switching and converting equipment, will help to solve this problem. CH-506TXPLBD and CH-506RXPLBD extend the standard HDMI signal transmission length over a single CAT5e/6/7 cable.
The devices have the added benefit of built-in bi-directional IR and RS-232 ports and support PoC power-over-cable technology. Now, with HDBaseT technology, uncompressed Full HD video and audio can be transmitted up to 70m, and 4K up to 40m.
In accordance with the HDCP content protection protocol, devices are completely transparent. They provide support for passing CEC control commands, and also pass LPCM 2.0/5.1/7.1 and HD Bitstream multi-channel audio without any  limitation. For best results only Shielded cables and CAT5e/6/7 connectors must be used.

Cypress Technology devices are based on the best development practices multiplied with experience.