Innovative solution for high-quality AVer video conference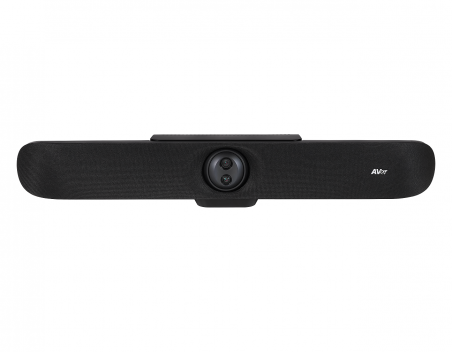 AVer Information, the world's leading manufacturer of video conference systems, has expanded its range with a new solution – the PTZ VB350 video bar for medium and large premises with two lenses and a hybrid 18× zoom.
The modern video conference system with high-quality acoustic sound is intended for use in medium and large premises. An attractive design, dual 4K lenses with seamless switching, advanced audio tracking technology and intuitive control make the VB350 a powerful but easy-to-use all-in-one video conference device.
Hybrid 18× zoom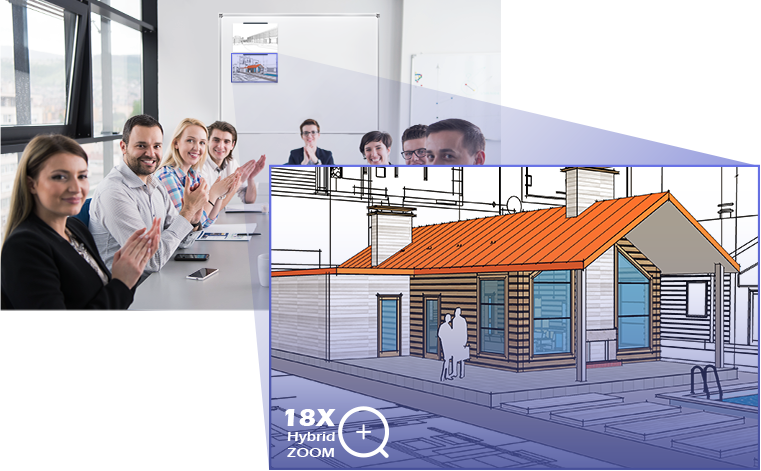 With a 113° viewing angle and 18× hybrid zoom, the VB350 provides crystal-clear front and back views in conference rooms up to 7 m long.
Smart lens switching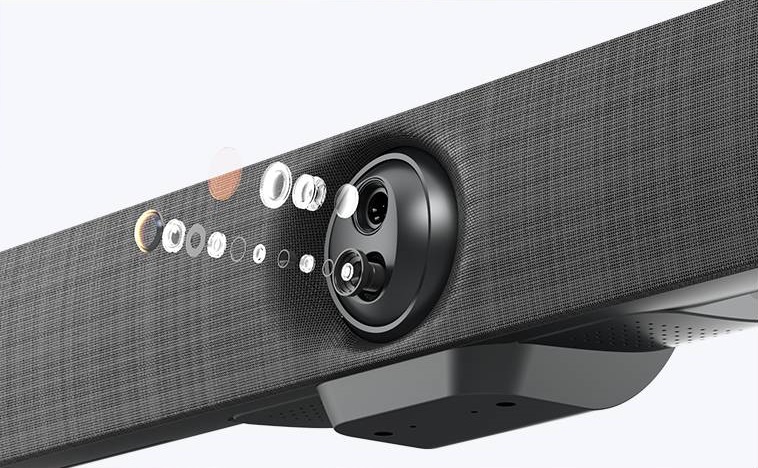 No more abrupt transitions to spoil meetings: the VB350's stable smart lens switching allows to capture high-detail images of participants, even if they are far from the camera, and the change of angles is surprisingly smooth.
Conversation View function to minimize camera movement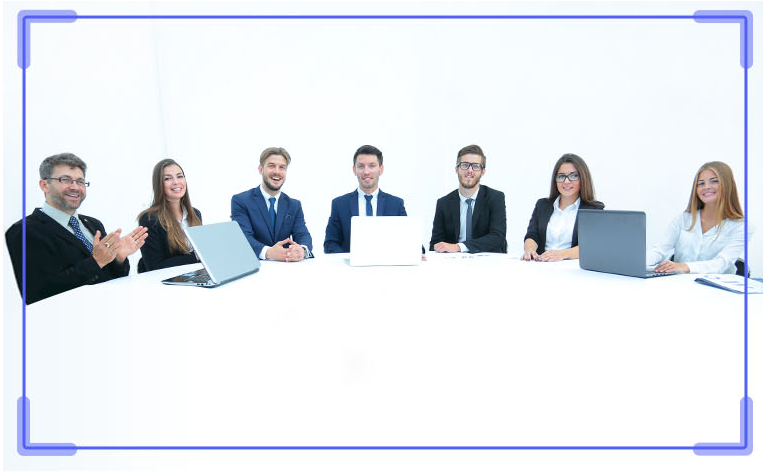 Conversation View function guarantees the communication comfort for remote interlocutors. The camera will track active speakers in audio tracking mode. But when others join the conversation, the camera will switch to automatic framing mode and "capture" all participants, not individual speakers.
Audio barrier to eliminate background noise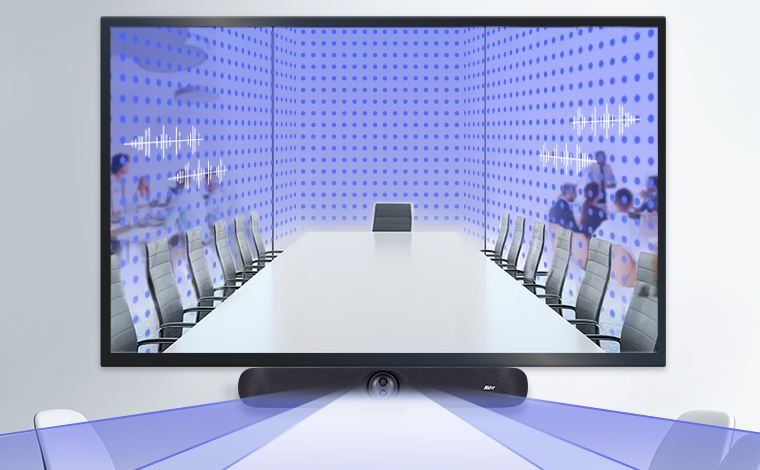 Audio Fence function blocks out background sounds and captures only voices within the camera's view area, so seamless remote work is possible even in open workspaces.
An array of 14 microphones ensures realistic sound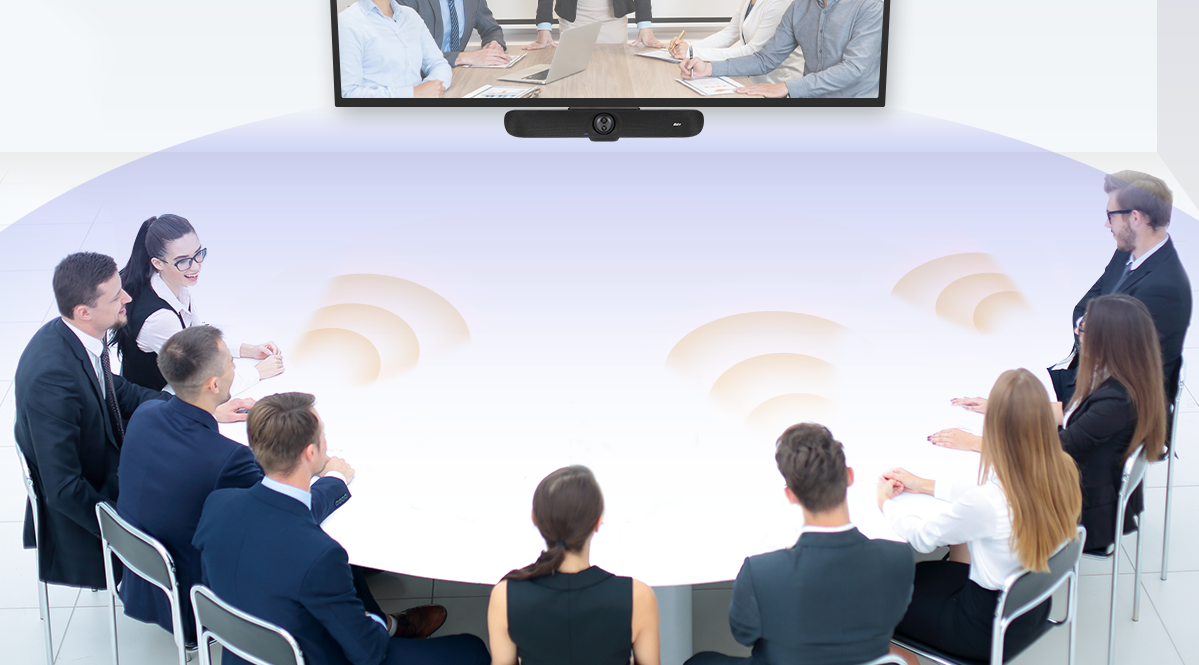 Clear and natural sound reproduction is provided by a 14-element microphone array that accurately captures the voices of all participants at a distance of up to 10 m. Thanks to realistic sound, remote meetings turn into personal ones.
Specifications

12 V DC outlet
RJ45 interface (LAN)
USB 3.0 Type-B connector (for connecting to a PC)
HDMI connector (for connecting to a TV)
USB 2.0 Type-A connector
Mini-jack connector (for connecting a smartphone)
RJ45 interface (for additional speakerphone)
RS-232 interface
USB 2.0 Type-A connector (for wireless dongle)
Camera
Dual 4K lens with 113° wide angle of view (FOV) and 18× zoom: 4K 3X varifocal lens FOV (L/H/W) 92°/81°/50°; fixed 4K lens FOV (L/H/W) 113°/105°/71°. The Sony 4K sensor is the key to a crystal-clear image in any lighting

Frame rate: (16:9) 1,280 × 720 at 60, 30, 15 fps; (4K) 3,264 × 1,836; 2,560 × 1,440; 1,920 × 1,080; 1,600 × 900; 960 × 540; 848 × 480; 800 × 448; 640 × 360; (4:3) 1,280 × 960; 800 × 600, 640 × 480 at 30, 15 fps

Adjustable sound barrier: freedom to choose the sound capture cell

SmartFrame and SmartSpeaker functions: automatic tracking and viewing angle adjustment for tracking all participants and focusing on the speaker

Presentation mode: speakers' tracking by voice throughout the premise and specific areas

Smart Gallery function improves the visibility of all participants

Intuitive camera control with gestures

WDR, white balance and other image settings using PTZApp 2

Minimum focusing distance is 100 cm

Visitor Accounting API: enterprises and third-party software providers can receive data about visitor numbers and intervals between meetings

Motorized pan and tilt
Pan 165°

Angle of inclination 101°

10 preset camera settings

Audio
14-element beamforming microphone array

Capturing range up to 10 meters (recommended working distance for AI functions to be activated is no more than 5 meters)

Loudness up to 96 dB SPL at a distance of 0.5 meters

Echo suppression

Noise suppression with AI

HDMI
USB 3.1 (Gen 1) to HDMI adapter

4K HDMI connector for connecting to a TV (Windows 7 and macOS: HDMI adapter driver must be installed)

Connection options
12 V/5 A DC outlet

Mini-DIN 6 interface for connection via RS-232

USB 3.1 Type-B connector compatible with USB 2.0

HDMI connector (USB-HDMI adapter)

3.5mm headphone jack or hearing aid connection (need to configure via PTZApp 2 and purchase AVer adapter for audio jack)

2 × RJ45: for network connection and additional speakerphone/microphone

3 × USB 2.0 Type-A: for wireless dongle connection**, IFP displays with USB Touch Back function and expansion boards (for mobile phone connection, an additional wireless dongle is required)

USB
USB 3.1 Gen 1 connector, backwards compatible with USB 2.0

UVC 1.1 (USB video), UAC 1.0 (USB audio)

Video formats
YUV, YUY2, M-JPEG

H.264 video compression format

RTSP and RTMP network protocols

Control
IR remote control

WebUI: IP access via Chrome browser 76.× or later (Internet Explorer not supported)

VISCA/pelco P/pelco D via RS-232/VISCA via IP

UVC/UAC plug-and-play

PTZ App 2

Assembly and safety
Wall bracket (included)

VESA TV mount (sold separately)

Kensington security lock

Supply
100-240 V AC, 50/60 Hz

Consumption: 12 V/4.5 A

System requirements
Software

Windows 7/10/11 or latest

macOS X 14.4 or latest

Chromebox 3 version 94.0.4606.114 or latest

Hardware

Intel Core i5-4460 processor with a clock frequency of 3.2 GHz or higher

4 GB of RAM or more

USB 3.1 connector compatible with USB 2.0

Free collaboration apps (Windows and macOS supported)
EZManager 2: Software for centralized camera control. For remote grouping of software updates, camera control and settings

PTZApp 2: Camera setup software

Viewing broadcasts, accounting for the number of visitors, information about intervals between meetings

Remotely control Skype for Business

Automatic or manual firmware update

Camera control

Setting parameters and adjusting the camera image

Diagnostics of the working condition

EZLive: Software for online broadcasting. Multi-camera real-time image streaming with annotation, image capture and video recording

Terms of use
Operating temperature: 0-40 °C

Working humidity: 20-80%

Storage temperature: -20-60 °C

Storage humidity: 20-80%

Compatible programs
Zoom, Microsoft Teams, Skype for Business, Skype, Google Meet, Intel Unite, RingCentral, BlueJeans, V-Cube, LiveOn, CyberLink U Meeting, TrueConf, Adobe Connect, Cisco WebEx, Fuze, GoToMeeting, Microsoft Lync, Vidyo, vMix, WebRTC, Wirecast, XSplit, V Cube
Physical parameters
Package size (w × h × d) is 197 × 260 × 872 mm

Package weight is 7.4 kg

Camera size (w × h × d) is 128 × 126 × 791 mm

Camera weight is 3.3 kg

Remote control (w × h × d) is 42 × 19 × 150 mm.

Remote control weight is 50 g.

Complete set
VB350 system.

Power adapter and cable.

Cable USB 3.1 Type-B > Type-A (3 m).

USB 3.1 Type-A > Type-C adapter.

Card with QR code.

Bracket for wall mounting.

Tripod screws.

DC remote control.

Paper template for drilling holes for the bracket.

Additional accessories (sold separately)
Adapter mini-DIN 6 > RS-232.

VESA mount for TV.

Remote microphone 10 m/20 m.

Speakerphone 10 m/20 m.

Extension cable USB 3.1 10 m/20 m/30 m.

Cable USB 2.0 Type-B > Type-A, 5 m.

Wireless dongle.

Audio plug converter (TRS plug to TRRS plug).

Warranty
Camera: 3 years.

Accessories: 1 year.