Mix deliciously with ARDESTO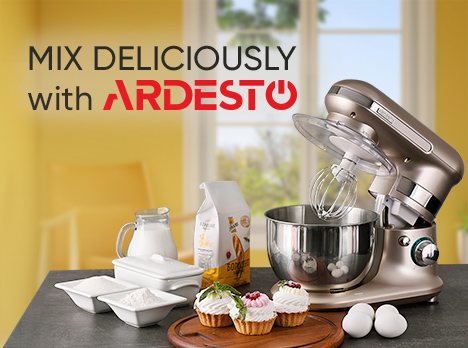 Every housewife values her time and tries to please her loved ones with delicacies prepared by herself as often as possible. Knead the dough, prepare cream, sauces, mousses – mixer is an indispensable device for these actions.
Entrust the monotonous task of mixing products to ARDESTO mixers, they will handle it perfectly thanks to sufficient power, the optimal number of modes and attachments, and the time saved will be given to your family. What could be better?

ARDESTO HMK-4006 hand mixer
With the ARDESTO HMK-4006W hand mixer you can always quickly mix any products or knead the dough. With high power (400 watts), five speeds, Turbo mode and two types of stainless-steel nozzles, the mixer can easily handle any task.
There is a special transparent container for convenient storage of nozzles, so everything you need will always be at hand.
Product code: HMK-4006W
Power 400 watts
Number of modes 5
Turbo mode
Mechanical control
The volume of the bowl is 4 liters
Nozzles whisks, hooks for kneading
Overheat protection
is white
Size (w × h × d) 19 × 24.5 × 8 cm
Weight 1.33 kg
ARDESTO KSTM-80xx stand mixer
ARDESTO KSTM-8040, KSTM-8041, KSTM-8042 and KSTM-8043 stand mixers will please with color scale, and therefore, it is possible to pick up that which will as much as possible fit to a kitchen interior.
A 4-liter stainless steel bowl will suffice for cooking even for a large family. To prevent splashing during mixing, the kit has a transparent lid, so you can control the process and add products as needed through a special hole.
After cooking the nozzle and bowl can be easily removed for quick cleaning.
Product codes: KSTM-8040, KSTM-8041, KSTM-8042, KSTM-8043
Power 800 watts
Number of modes 6
Pulse mode
Mechanical control
The volume of the bowl is 4 liters
Nozzles whisk, A-shaped nozzle, hook for kneading
Overheat protection
Colors white, green, red, champagne
Size (w × h × d) 36 × 30 × 21 cm
Weight 4.25 kg