One of the most popular offers from ANTEC – NX230 PC case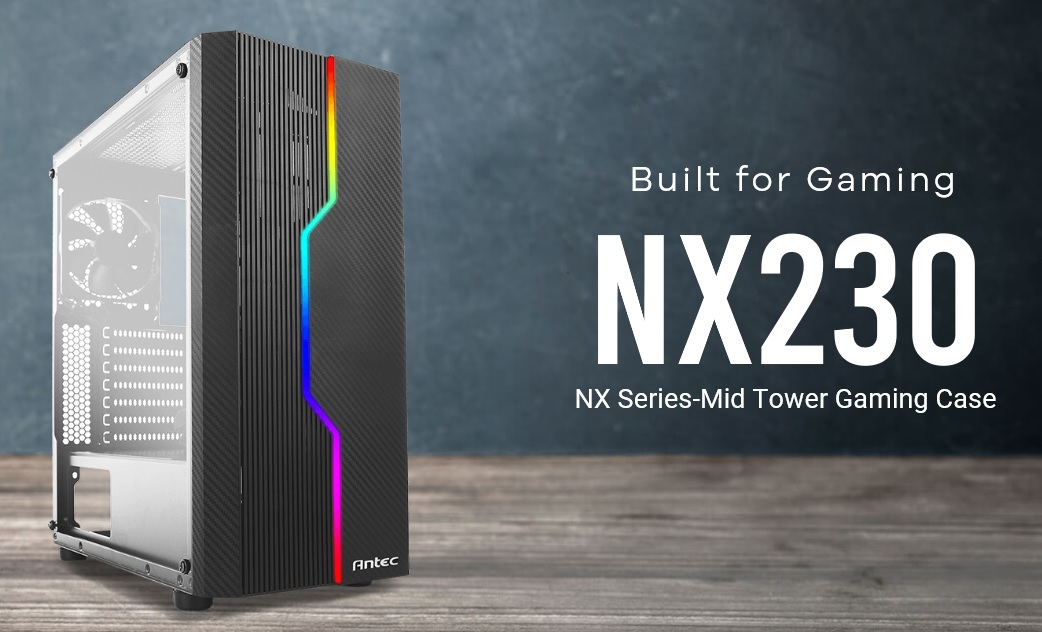 25.05.2021
For several decades, ANTEC has been actively cooperating with professional gamers, amateurs and computer enthusiasts. Their specialists and leading engineers are extremely interested in and follow all the current trends to create their state-of-the-art products as well as to meet all users' needs. This is how the ANTEC series of NX cases was launched, united by the slogan "BUILT FOR GAMING".
The key to the efficiency of your PC is a well-chosen case. Here, one should take into account not only its aesthetic advantages but also its functional features.
The Antec NX230 is the perfect choice for fans of both discreet design and clear geometric shapes.
The ARGB-backlight strip on the front panel, 4mm tempered glass on the side panel and built-in 120mm ARGB fan – all these complemented with sophisticated functionality are the modern components that attract the attention of users.
The classic MidTower form-factor supports ATX, Micro-ATX, Mini-ITX motherboards. The front panel is combined and has a perforation for active air circulation.
As a standard, the case is provided with USB2.0x2 and USB3.0x1 connectors, control keys (Power on/off, Restart, LED control, Microphone/Audio).
The PC chassis supports the placement of water-cooling, namely a 360 mm radiator on the front panel. It is also possible to install up to eight fans for even more active cooling of components.
There is enough space for a video card up to 300 mm long and a processor cooling up to 160 mm.
The construction of the chassis is well ventilated, thanks to the special perforation on the front panel, and is protected from dust ingress by magnetic filters (top and bottom panels).
If you want to upgrade your system, the chassis has seven expansion card slots for one (or two) 3.5″ drives and two 2.5″ storage devices – that is all you need and even more.
There is no need to hesitate, ANTEC's NX230 PC case is an attractive and modern solution for a gaming, home and stylish PC. The transparent glass panel, lighting effects, well-thought-out functionality and a design that provides rational cable management in combination with effective ventilation will satisfy the whims of even the most demanding users.
ANTEC is the embodiment of style and impeccable quality!